OUR SOUTHERN HEMISPHERE OLIVE OILS HAVE ARRIVED.... TIME TO CHANGE YOUR OIL!
Login
Log in if you have an account
Register
Having an account with us will allow you to check out faster in the future, store multiple addresses, view and track your orders in your account, and more.
Create an account
About us

Our Mission
Andrea Volter and Marianne Krantz founded Olive R Twist Olive Oil Company to bring health and culinary benefits of the freshest, highest quality olive oils and finest balsamic vinegars to their community. Andrea's and Marianne's "tasting room" model allows their clientele a broader experience that includes sampling superior quality pure Extra Virgin Olive Oil (EVOO) and aged balsamic vinegars, as well as learning about the value of the powerful antioxidants and other potent healthy components found in their oils and vinegars.  They also offer cooking workshops, recipe guidance, and special guest events as a way to fully engage their clientele in the uses of their products.
About the Store
Located in the beautiful historical west side of the Village of Ridgewood, Bergen County, New Jersey, Olive R Twist Olive Oil Company boasts over 60 different varieties and flavors of the highest quality fresh EVOO's and balsamic vinegars.  In what is known as "following the crush", the store carries olive oils from both the Northern and Southern Hemispheres, depending on the time of year. This ensures that only the freshest available olive oils are always "on tap". The balsamics, produced in Modena, Italy, are barrel-aged for 12 to 20 years and are chock full of probiotics.  A visit to the store is truly a gastronomic experience!
Our Background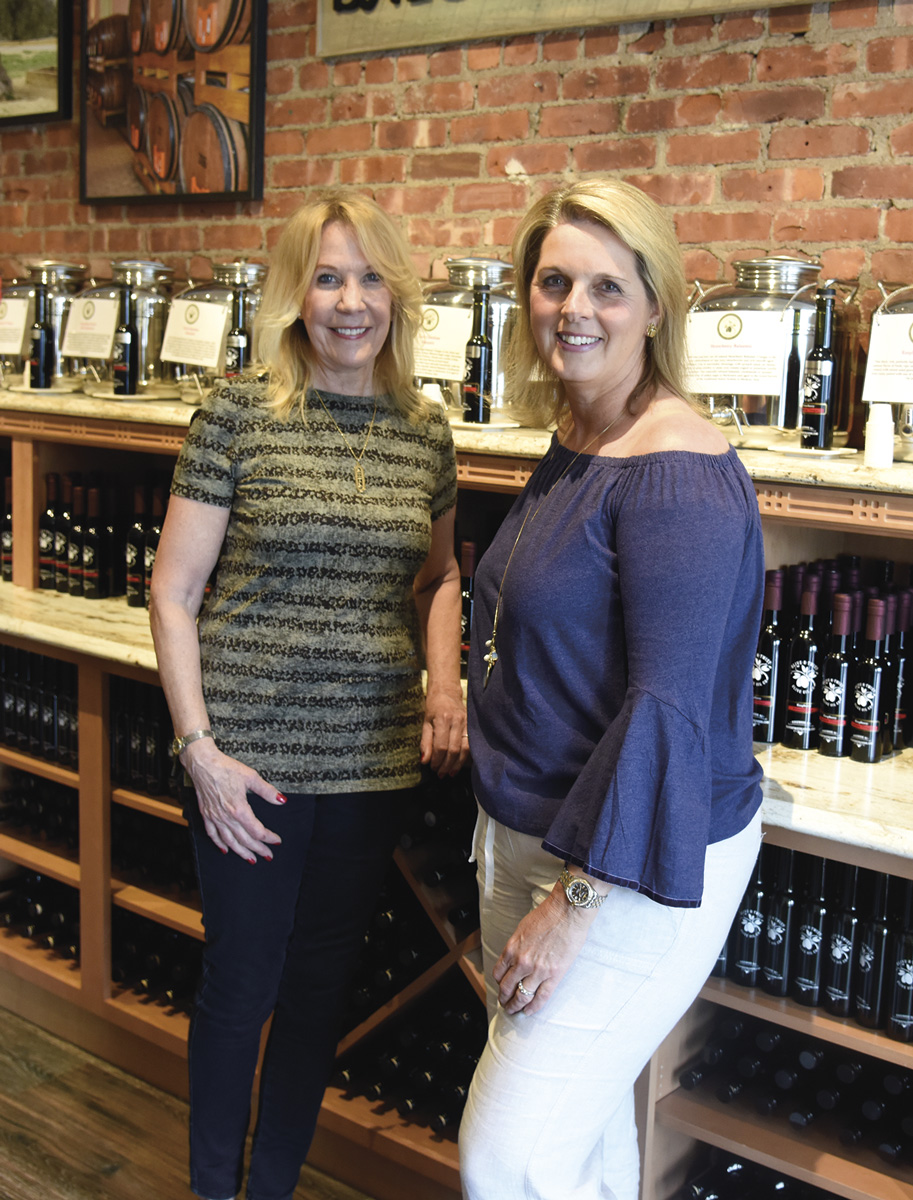 Olive R Twist Olive Oil Company opened its doors in May, 2018, but Andrea and Marianne feel as though the business has been "in the making" for many years.  Longtime friends, they come from two very different backgrounds, yet are convinced they were most definitely sisters in a former lifetime!
Andrea resides in Warwick, New York with her husband, two horses and two cats.  It was on a business trip to Raleigh, North Carolina during her 35-year career as an interior designer that she first experienced an olive oil and balsamic vinegar tasting room and fell in love with the concept.  A gourmet cook, Andrea came home from that fateful business trip with as many bottles of olive oil and vinegar that she could stuff into her suitcase! In her spare time, Andrea loves to frequent local farmers' markets for fresh produce to incorporate into her creative culinary efforts.   Since opening Olive R Twist Olive Oil Company, Andrea has had a field day creating new recipes that include the store's EVOO's and balsamics!
Marianne lives in nearby Franklin Lakes with her husband, daughter and two dogs.  She spent 15 years in the corporate world as a commercial real estate banker, and the next 15 years loving every moment of motherhood raising her daughter.    When Marianne decided it was time to challenge herself in the business world again, she made a goal to create a platform to educate others on the importance of healthy eating.  After having some past personal and family member health issues, she learned of the enormous health benefits of consuming a Mediterranean diet, including fresh crushed extra virgin olive oil.  Marianne loves the fact that something that tastes so amazing also has such high anti-oxidant properties, and affectionately terms the store's EVOO's as 'liquid gold'!
Both Andrea and Marianne believe it is important to continue to educate themselves about their products.  They recently obtained certification in Sensory Analysis of Olive Oil at the Olive Institute at the University of California-Davis, where numerous studies are underway about the health benefits of extra virgin olive oil.  They have an in-store staff education process, as well. Andrea and Marianne take great pleasure in sharing their knowledge of olive oils and balsamic vinegars and their health benefits, as well as their favorite recipes! 
Read a recent article about us in Hook Magazine.